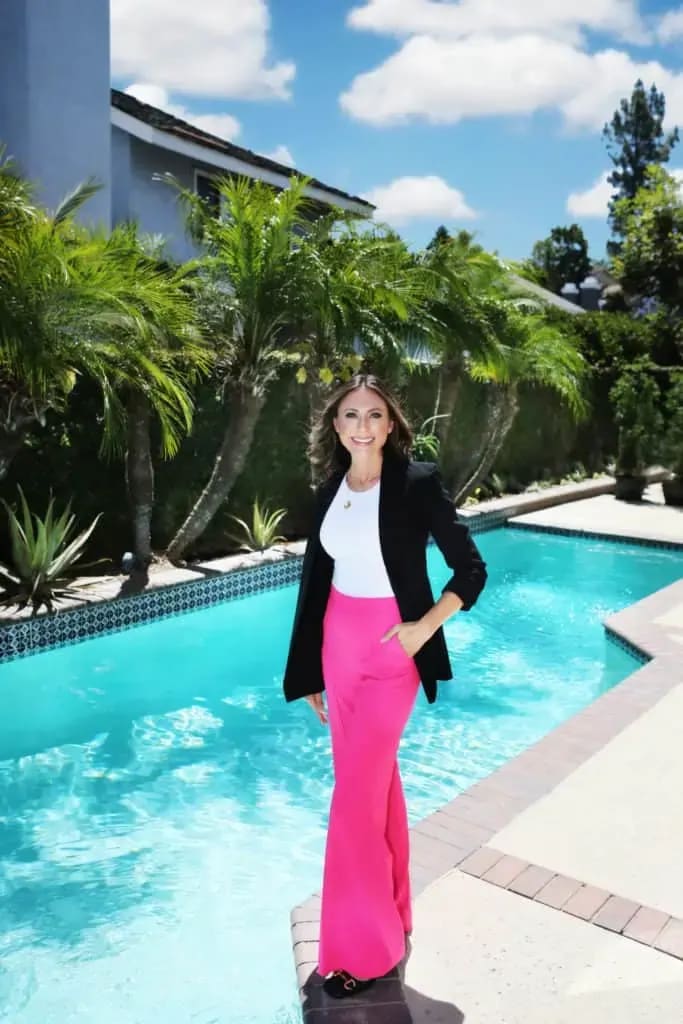 Natalie Boyle, Realtor® and Verso Homes Founder
Hi, I'm Natalie Boyle! You've probably been searching a long time for the right Realtor® to help you on your way. I'm here to tell you that the time has come. I've been a Realtor® for 21 years and counting, and I have never seen a more exciting time in this industry than right now!

Today I would like to share with you everything you need to know about owning and operating an Airbnb. I've been a Superhost for 3 years now, renting out one of my secondary residence for leisure purposes, and have had 100% positive reviews. This property is located in the PGA West Villa community at La Quinta, California.

Initially, we'll cover the acquisition process, and then we'll dive into how to manage your guests and property.

To begin with, let me show you my Airbnb property:
PGA West Villas by Verso Homes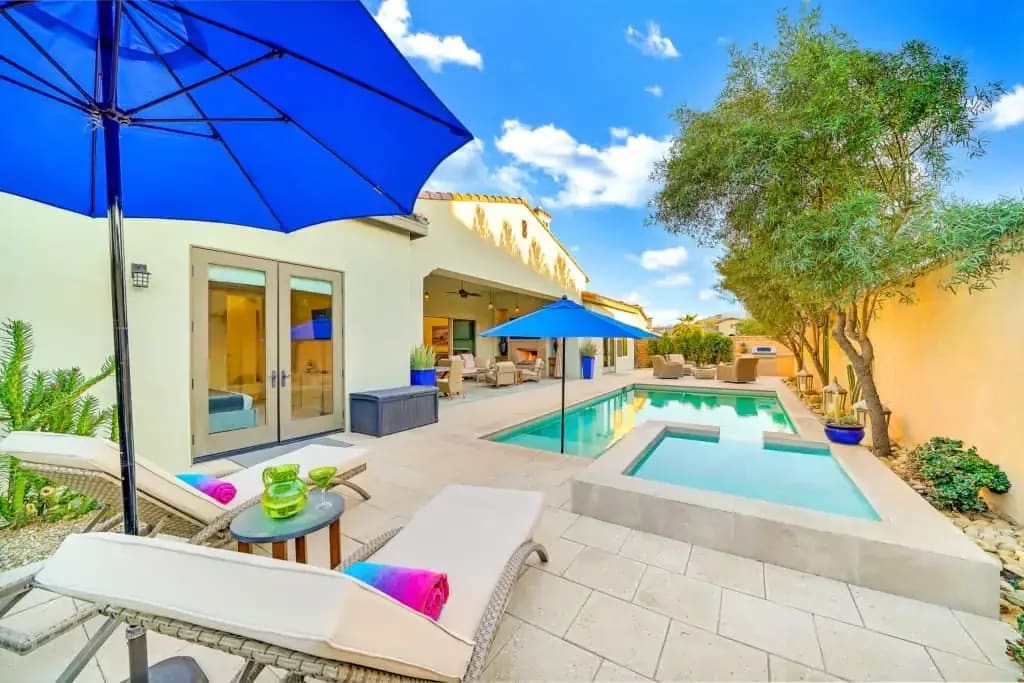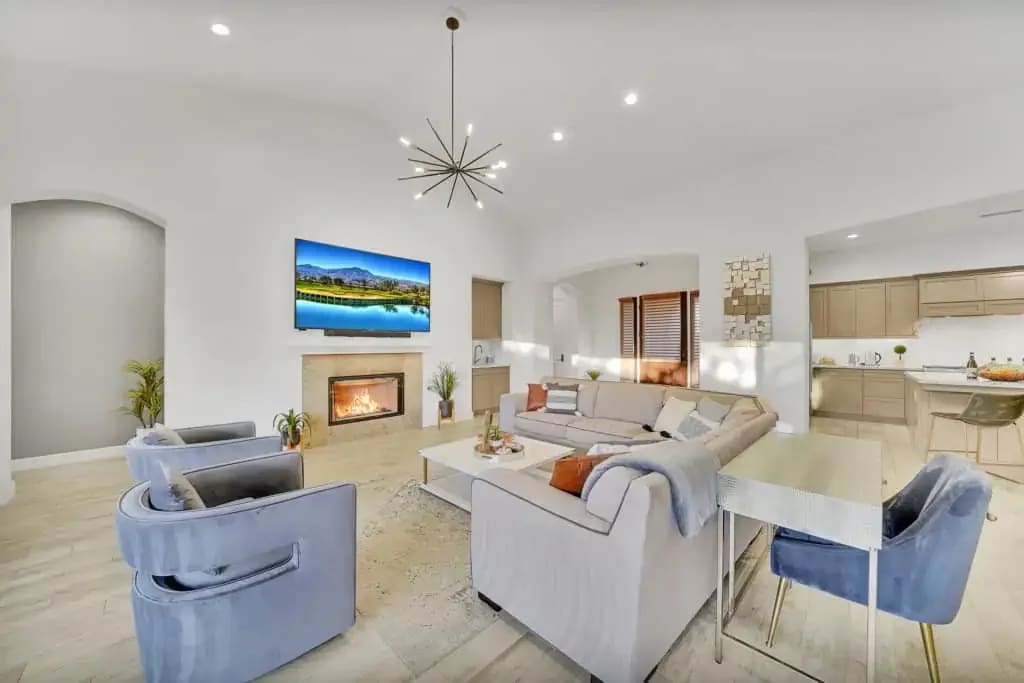 The PGA West Greg Norman community is an exclusive golf course community in a great location for people who want to relax by the pool, unwind, and enjoy golf.

PGA West is a huge community that surrounds the Greg Norman golf course. With its guard-gated entrance, it provides ample privacy to its residents and visitors. The villa has four bedrooms and boasts a large California room (400sqft) with polished hardwood floors and access to a fully equipped back patio. It also sports an enormous pool, spa, fire pit, and outdoor grill.

You can reach Coachella, Thermal, Old Town La Quinta, the Palm Desert Mall, Trader Joe's, Costco, Ralphs, and El Paseo in less than 15 minutes. The Greg Norman Clubhouse is a magnificent venue that overlooks the renowned nature-inspired Greg Norman Course. Wallaby's is an Aussie-lovers haven that offers a culinary twist on old favorites if you're looking for mouth-watering dining in a casual, ranch-style atmosphere.

The following are estimated distances from the vacation home:

– Empire Polo Fields & Desert International Horse Park: under 5-minutes

– Old Town La Quinta & Lake Cahuilla: 5-7 minutes

– BMW Performance Center West: 10 minutes

– Indian Wells Tennis Garden: 15 minutes

– Palm Desert, El Paseo, The Living Desert: 15-20 minutes

– Downtown Palm Springs/Airport: 30 minutes

​​​​​​​– LA/OC/SD: Roughly 2 hours without traffic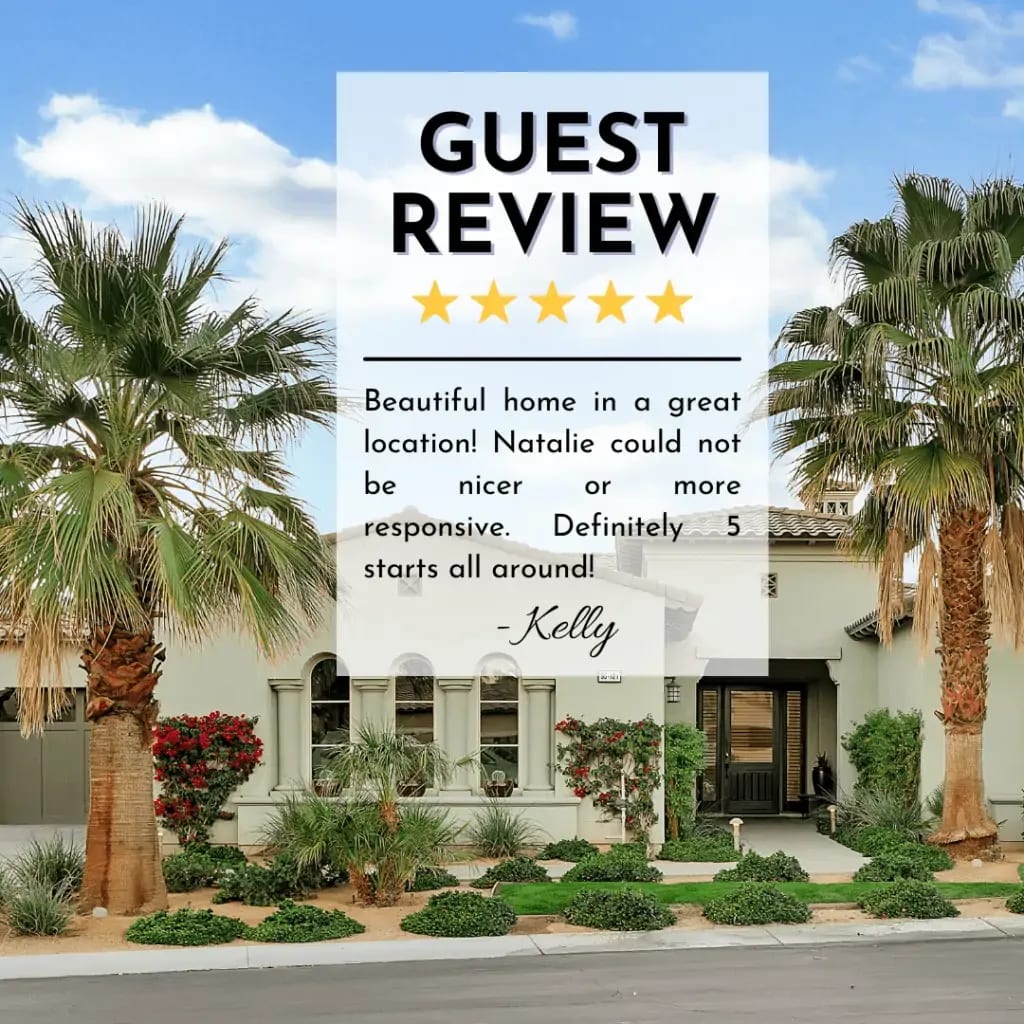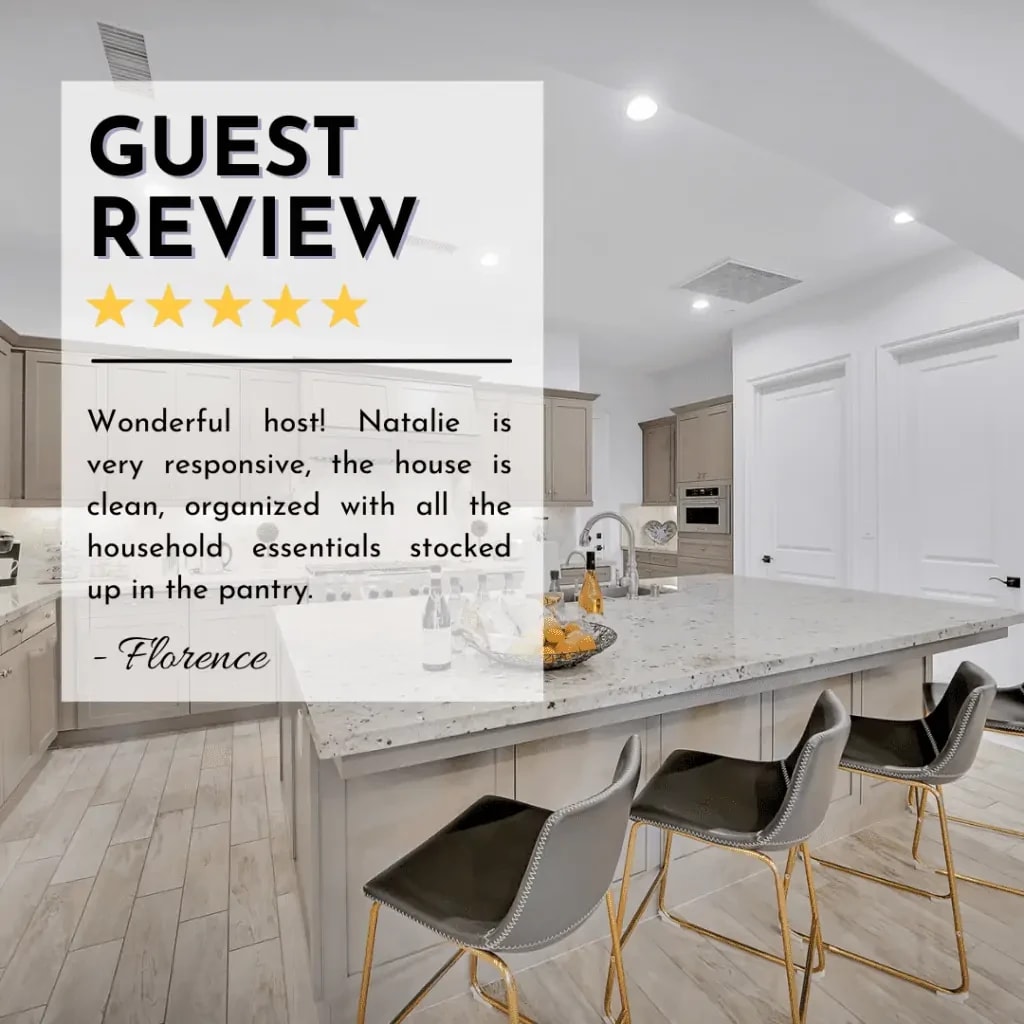 To LEARN MORE about the property, just click this link:

Choosing the Right Airbnb Property

We zoned in on the Palm Springs area because it's only a couple of hours away, my parents live there, and we enjoy visiting there from fall to spring when the weather is at its best.

We centered on being close to golf courses because being close to activities and amenities is important for getting bookings. We then focused on being within ten minutes of the Coachella and Stagecoach festival grounds in order to secure those bookings as well.

I fell in love with this single-level home and thought it would be a fantastic second home to own for the next 20 – 30 years, and I could see us using this home until we retired.
Challenges of Owning an Airbnb Property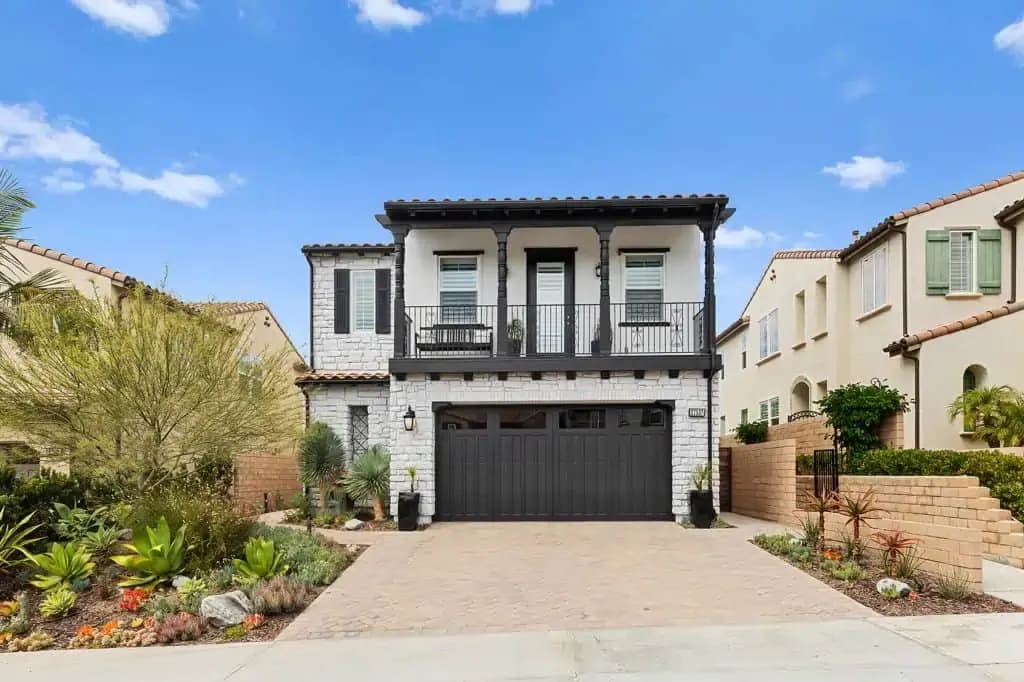 Today, more and more people are buying homes for the sole purpose of renting them out as STRs (short-term rentals). These properties can yield dividends in ways that long-term rentals might not, but managing them isn't easy.

​​​​​​​Short-term rental income is typically about 30% more annually than that of a long-term property owner, says Nick Del Pego, CEO of Deckard Technologies.

There is a considerable amount of planning and preparation involved in STR operations. This is according to Rob Copenhaver, a real estate agent with REMAX Unlimited and owner of Vacation Rentals of Tampa Bay, Florida, which specializes in vacation rentals.

STRs can be a profitable investment, but buyers must be aware of the risks they are taking with regard to return on investment, laws, taxes, and insurance. Superior customer service requires guiding clients through all the challenges and directing them to the knowledge they'll need to maximize their investment.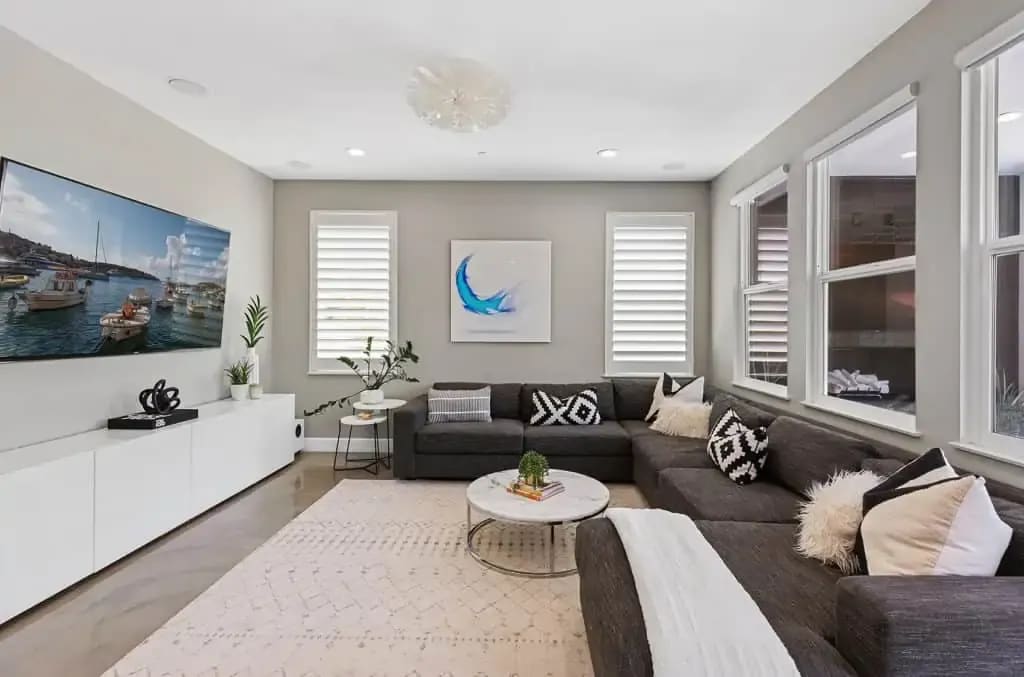 Challenge #1: Financing for an STR.

​​​​​​​It's crucial to explain to the lender how you plan to use the property when looking for a mortgage pre-approval. It is not sufficient to merely state that it will be utilized as an investment. According to Copenhaver, many lenders will not provide financing for STRs.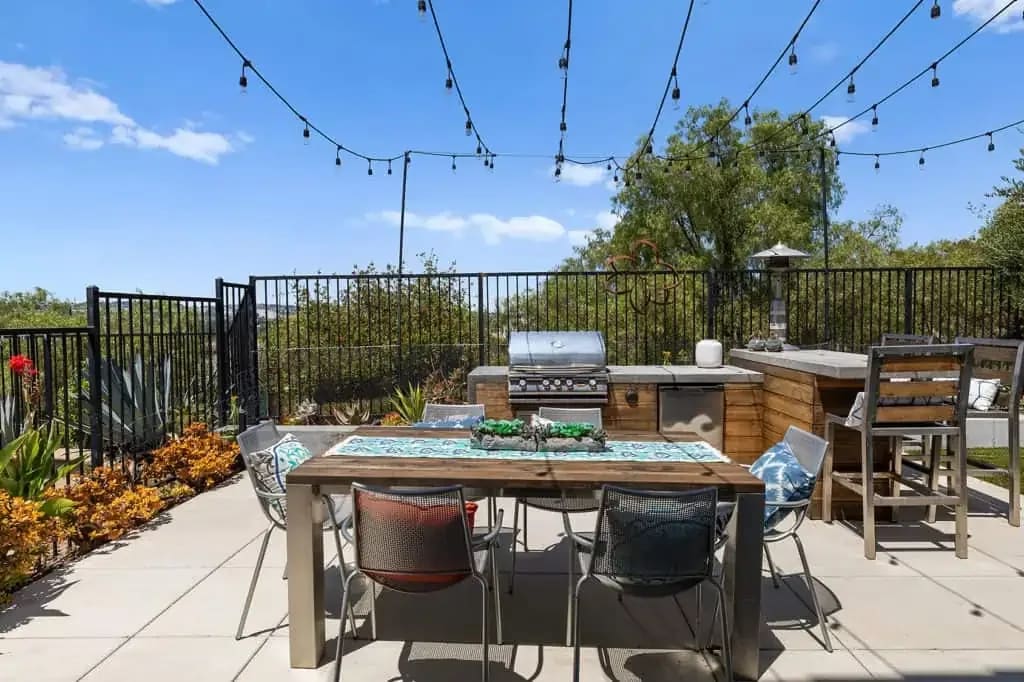 Challenge #2: Converting a property into an STR.

​​​​​​​Before you can profit from an STR, there are a few key variables to consider.:

Copenhaver acknowledges that local zoning and municipal rules specify which properties can and cannot be utilized as STRs, saying "Zoning can be a concern."
It is very important for you to understand zoning regulations before purchasing a property.
​​​​​​​
"Requirements may change even within a city, such as downtown versus residential districts," Del Pago notes. A good agent will be able to provide the client with this information.

Copenhaver notes that given customer interest in STRs, it's critical for agents to conduct their own local research and that doing so is a smart business move.

He claims that in order to determine what was legal and what wasn't, as well as where to find the information he needed to make an informed conclusion, he had to visit various municipalities and zoning sites.

If a property can meet the different clients' needs, it will be more profitable. For STRs, proximity to attractions and the capacity to serve a range of guests are crucial considerations. Buyers should also think about the property's aesthetics, amenities, and location.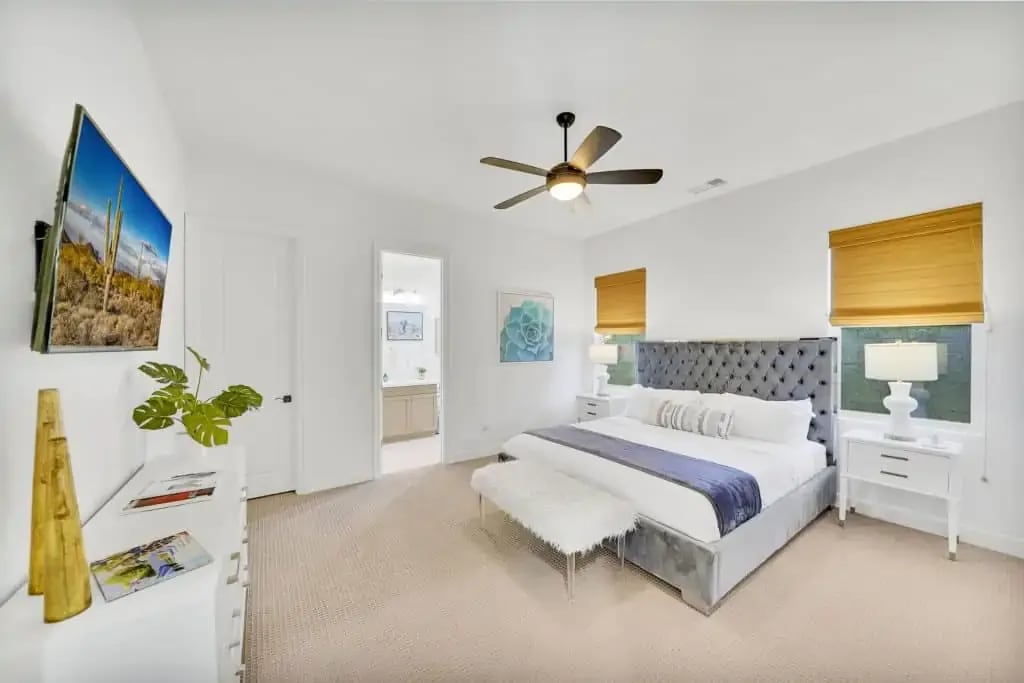 Challenge #3: Renting out a property.

​​​​​​​Copenhaver warns that even if the property is turnkey, it may still require significant investment to get it ready for rental.

There's a lot of equipment you'll need to get the property ready for rent, from cameras to Wi-Fi and noise monitors to carbon monoxide detectors.

Onboarding a property for a short-term rental (STR) is a major expense, and clients will likely want to know that upfront. Buyers will also need to consider what supplies they'll need to have on hand, such as linens, kitchen supplies, and bathroom necessities.

Most municipal governments view renting out short-term properties as a business, according to Del Pego. The requirements for business license and workplace regulations must be followed by owners, according to her. She adds that they will also be responsible for paying the transient occupancy fees that hotels are also expected to pay.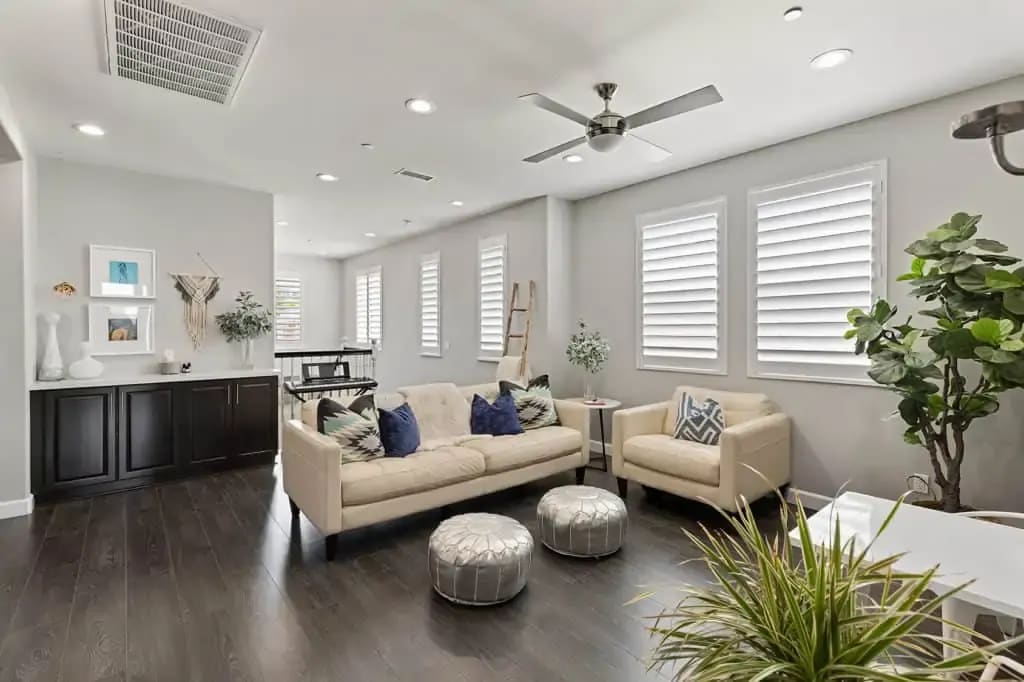 Challenge #4: Operating a safe STR.

​​​​​​​To operate an STR, Copenhaver thinks it's essential to be aware of local laws, especially those pertaining to security. In order to educate their clients or at the very least know where to direct them, agents and brokers need to educate themselves. Regardless of local laws, each STR must take specific precautions.
Guests must be protected by safety measures. These include adding smoke and carbon monoxide detectors, as well as altering the lock codes on the doors. Don't supply floaties in swimming pools, he advises. If visitors desire those, ask them to bring them. Make sure there is a readily available life-saving tool, says Copenhaver.

Challenge #5: Paying government license and taxes.

​​​​​​​Owners of STRs shouldn't believe they can outsmart the local authorities, according to Del Pego. As technology advances, it will be critical for buyers to ensure that they are following local regulations before investing their money.

Every city has different licensing procedures for businesses, and having an STR is regarded as operating a business. Del Pego said buyers must understand when and if they can even apply for a license. According to her, "many communities impose restrictions on how many STRs can exist in any particular location."
Other Factors To Consider

​​​​​​​Del Pego, says that brokers and agents must explain the advantages of STRs. According to del Pego, "STRs are needed to pay for necessary services like schools, firefighters, public safety, infrastructure, parks, and frequently, tourism marketing." Regulators are aware that, when used properly, STRs may be advantageous to all parties, she says.

Del Pego, also said: "When an STR complies with rules and is maintained properly, it benefits everyone." Being a good neighbor is important, she says, even if the buyer doesn't live in the home being used for the STR. Agents may aim to encourage their clients to invest by explaining these improvements to the entire community.
Tips for Taking Care of the Property and the Guests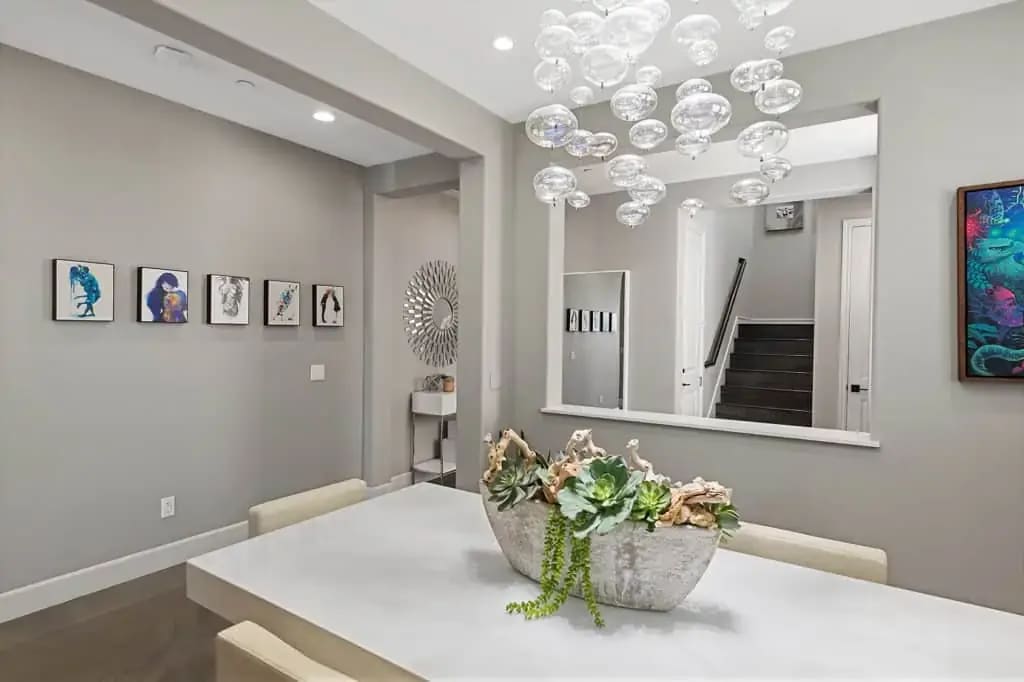 Tip #1: Establish house rules

​​​​​​​Consider creating a welcome binder with house rules and information about local amenities as you prepare to rent out your home on Airbnb. Inform guests about your smoking policy, maximum guest capacity, quiet hours, and pet policies. Make a list of the instructions for the TV, air conditioning and heating systems, security, WiFi passwords, parking, and trash days.
Include information about nearby gas stations, grocery stores, as well as popular neighborhood restaurants and attractions. Also, leave your contact information in case your visitors need to contact you!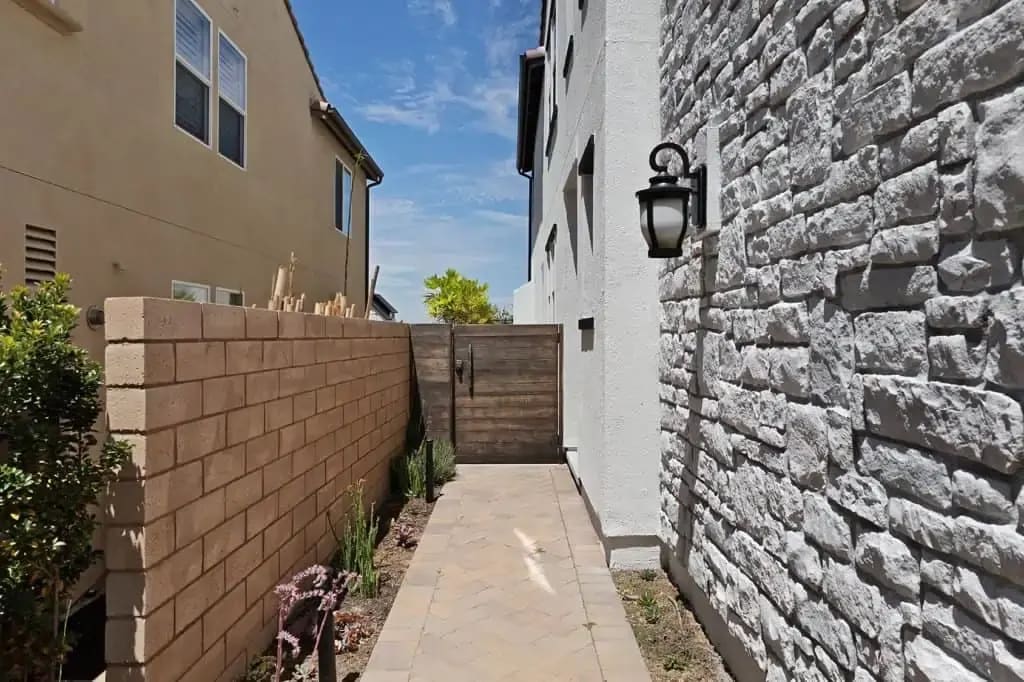 Tip #2: Keep the locks up-to-date

​​​​​​​Replace your front door lock with a keyless entry system! Digital locks allow you to create a unique code for each visitor. It also means a quicker check-in and check-out process, remote access for the host, no-contact rental options, and no need to worry about lost keys.
Not to mention, these locks provide you and your guests with additional security features such as tamper and failed attempt alerts.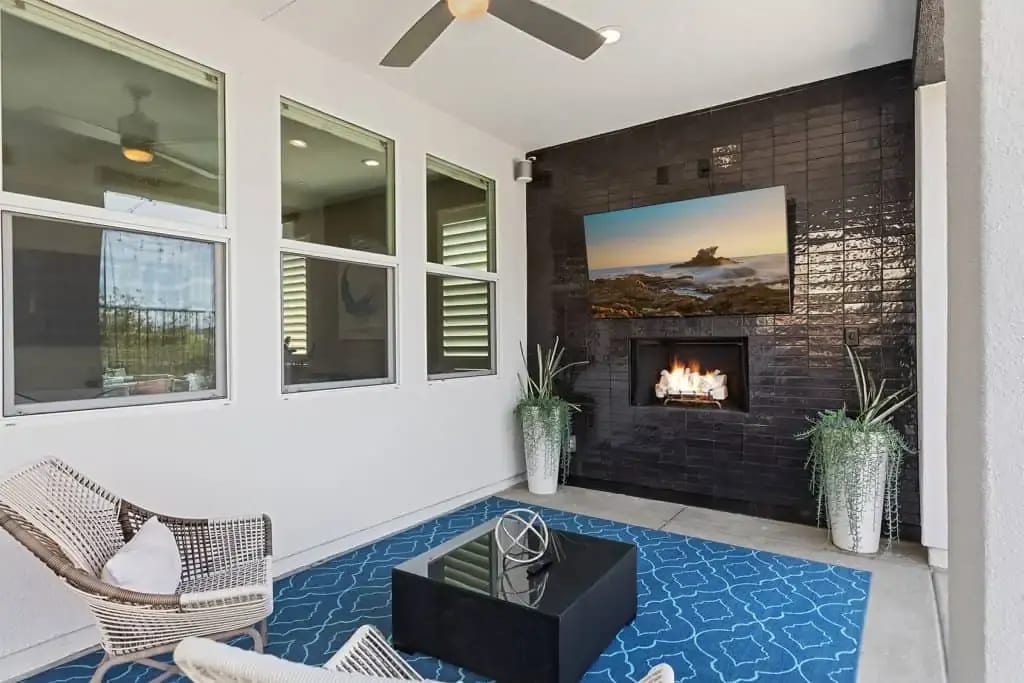 Tip #3: Set up WiFi and streaming services

​​​​​​​WiFi is one of the most requested amenities with Airbnb rentals. Offering free internet access to your guests not only gives you a competitive advantage, but it also allows you to expand your pool of renters to include business travelers who may require internet access for work.
Along with WiFi, it's a good idea to provide a TV with cable access or a smart TV so guests can watch their favorite shows!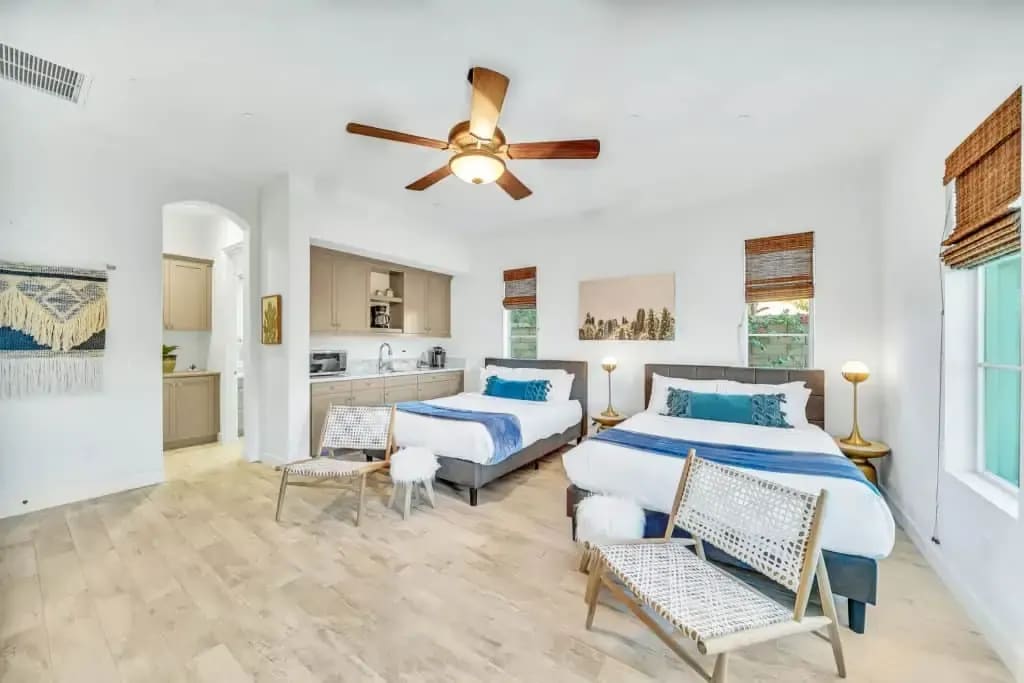 Tip #4: Prepare clean linens ahead of time

​​​​​​​Make sure there are enough clean linens for your Airbnb guests! Prepare bedroom essentials such as a complete set of sheets, including a fitted sheet, top sheet, and pillowcase, as well as a comforter or duvet.
Bathroom linens such as bath towels, hand towels, and washcloths should be provided. Keep extra linens in a closet for easy access if your guests require more!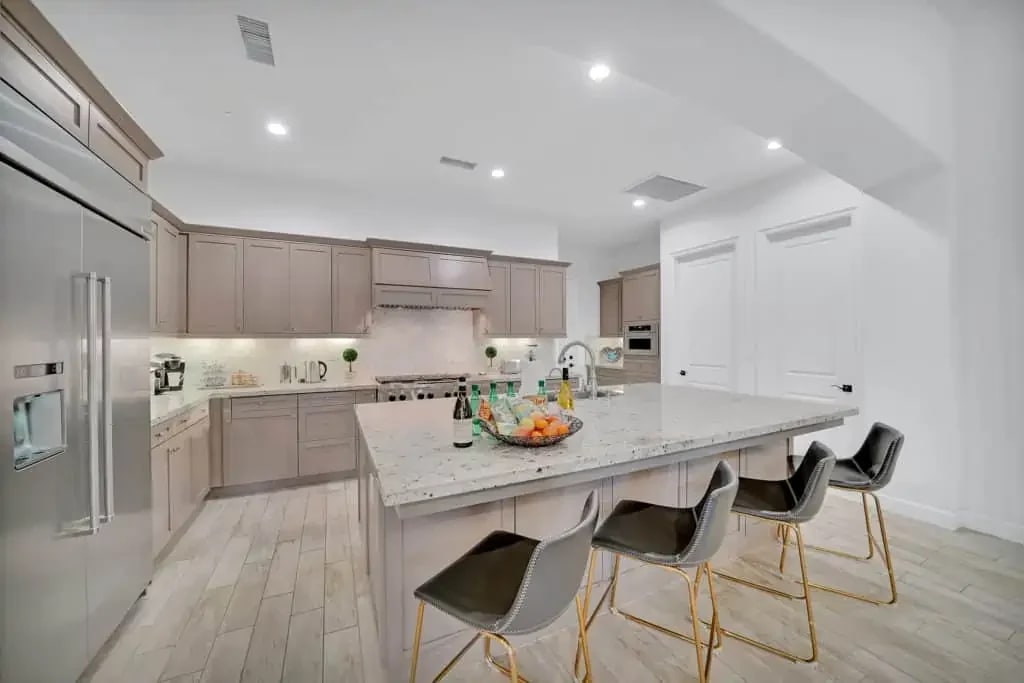 Tip #5: Stock your kitchen with basic essentials

​​​​​​​Because of the convenience of having a kitchen, many people prefer to stay in an Airbnb rather than a hotel. Before your guests arrive, stock your kitchen with any cooking supplies they may require. Include essentials such as pots and pans, utensils, cutting boards, oven mitts, and dish towels, as well as common condiments and spices.
Don't forget to include enough plates, bowls, silverware, and cups for the number of guests your home can accommodate!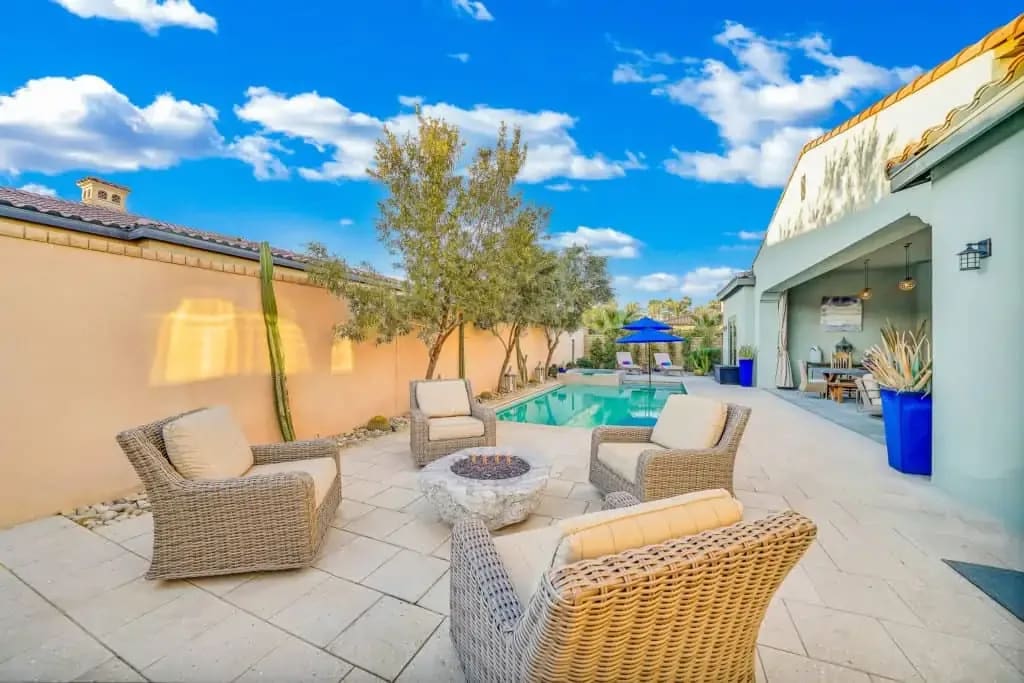 Tip #6: Brighten up your outdoor space

​​​​​​​Creating a welcoming outdoor living space can help your Airbnb rental attract more guests! For backyard lighting, experiment with string lights, torches, or lanterns. Include a grill and all of the grilling necessities for outdoor cooking.
Install a hot tub for all-year relaxation. Add a pool if your Airbnb is in an area where a pool investment makes sense.
Final Thoughts on Airbnb Properties
When we go on vacation, we also Airbnb our primary residence.

Now that we have our desert home, we intend to buy a mountain home and a beach house. All of which we can travel between in our retirement, with the help of Airbnb.

Check out my Airbnb Superhost page:
As a real estate agent, I understand what kinds of challenges you're going to have to overcome in this industry. Finding trustworthy resources, reaching clients… and there are all those pesky things like fees to consider! You really can't beat the speed at which we get listings now.

I founded Verso Homes, a boutique real estate agency that specializes in South Orange County, CA. My team and I have extensive knowledge of the property market across Southern California. We take pride in providing tailored solutions for each client and delivering exemplary customer service, which includes 24/7 availability with every contact point throughout the process.
Are you considering owning an Airbnb property? Let me help you!

Call me at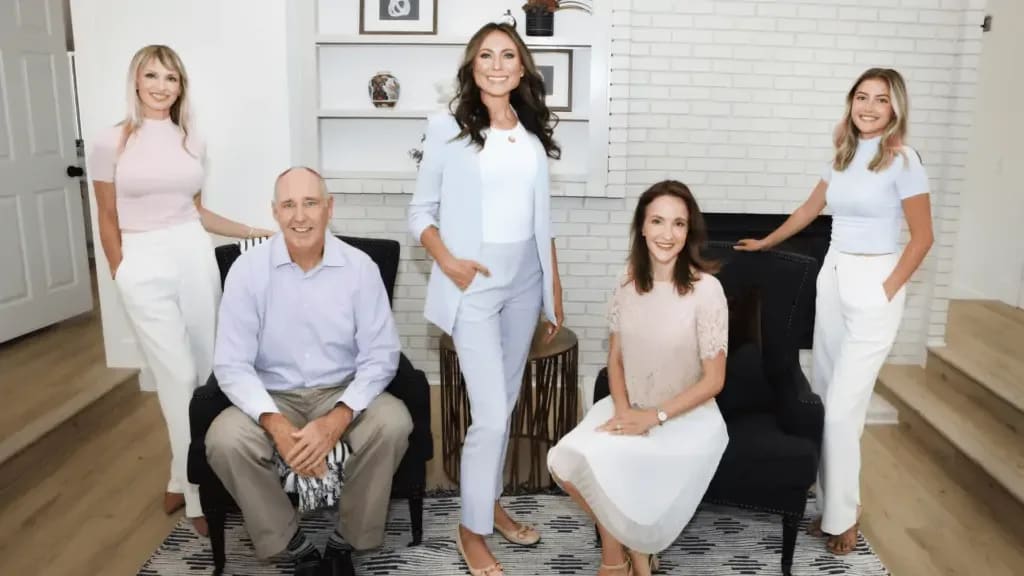 Verso Homes Team: Dawn Leibovitz, Tom Lloy, Natalie Boyle, Crystal Schantzen, and Kayla Breneman (Left to Right)