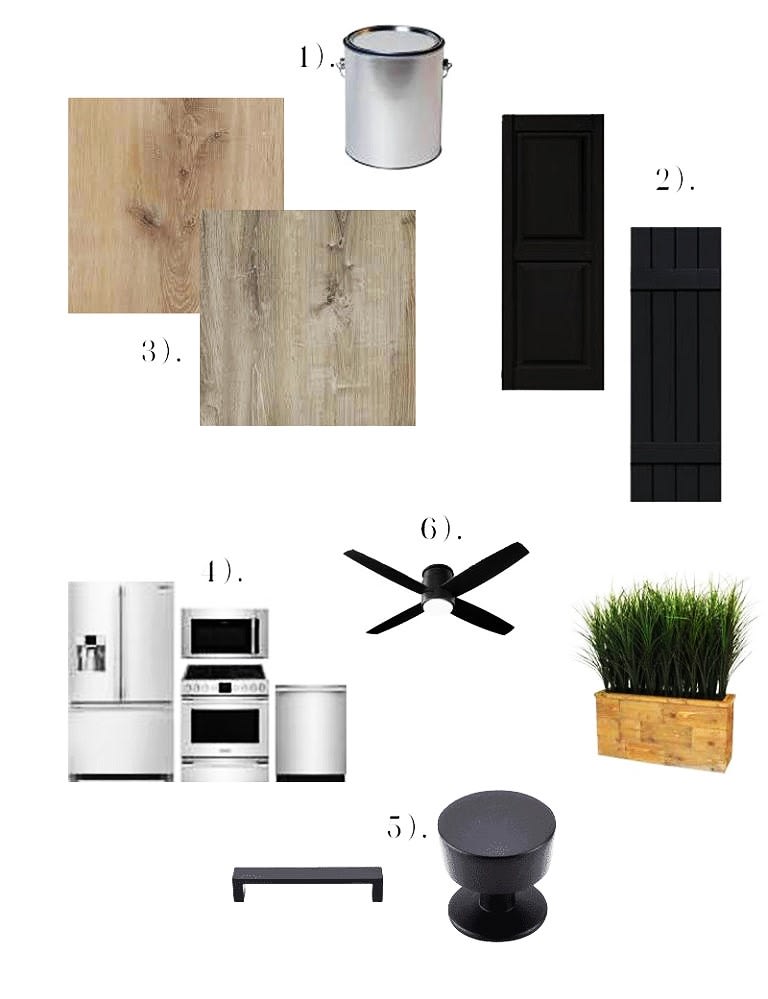 I meet many investors that steer away from property upgrades and maintenance in an effort to maximize profit. But, in our current real estate market that is a big mistake! Rents are up and the key to maximizing rental income is by making the right property upgrades.
I recently partnered with Bethany Campbell with
The Posh Home
to revamp one of my rental properties that was in the original condition. Bethany has an amazing eye for design and style and with her help, I was able to increase the rent by over 50% and my equity by an additional $50,000! We're sharing the top investment property upgrades to increase rent and equity.
1. FRESH PAINT
Paint is the top upgrade to make to increase both rental income and equity. Picking the right color for your home is so important. Having the right color will make your investment property feel more spacious and more inviting, which is sure to bring in higher profits.
Design Tip
To maximize curb appeal you have to determine the architectural style of the home and what trends will work best with the architecture. In this situation, the single level style house could work well in some of the popular modern farmhouse colors. Rather than going strictly black and white we worked in some gray since white can get dirty over time the gray would allow for less maintenance and cleaning. For the interior, I recommended a light neutral palette to brighten the home.
Paint Color Recommendations for this Property
2. CURB APPEAL TIPS
Add Vinyl Shutters!
An amazing easy way to amp up the curb appeal on this home was to add inexpensive vinyl shutters. They're not right for every home, but in this case, we scored.
If you're willing to do a little landscape work yourself, you can save big and reap the rewards. A little grass seed and fertilizer goes a long way and is often something that gets overlooked on a rental property. Flowers and shrubs can have a big impact too.
Design Tip
OPT FOR LOCAL DROUGHT TOLERANT PLANT VARIETIES TO HELP KEEP WATER COSTS DOWN.
Potential Cost: $80 – $300
3. FLOORING UPDATES
Tenants love wood flooring and the new vinyl wood floorings never looked so good and are oh so durable! Carpet in a rental property is never a good option if you want to maximize your rental income and equity. The new vinyl wood flooring is more affordable than ever and will make your rental property stand out from the competition. A big cost advantage is that vinyl floors last for 30+ years and are not glued down, so they are easy and affordable to fix when needed. We chose our flooring from
Simple Floors in Orange
which had an amazing selection and prices.
Design Tip
Steer away from dark floors that could make your rental property look smaller. Opt for lighter colored wood to make your rental property look brighter and larger. The goal is to select a floor that will maximize the appeal and brightness of the home as well as one that will easily conceal any wear and tear.
Potential Cost: $3,000 – $10,000+
4. KITCHEN UPGRADES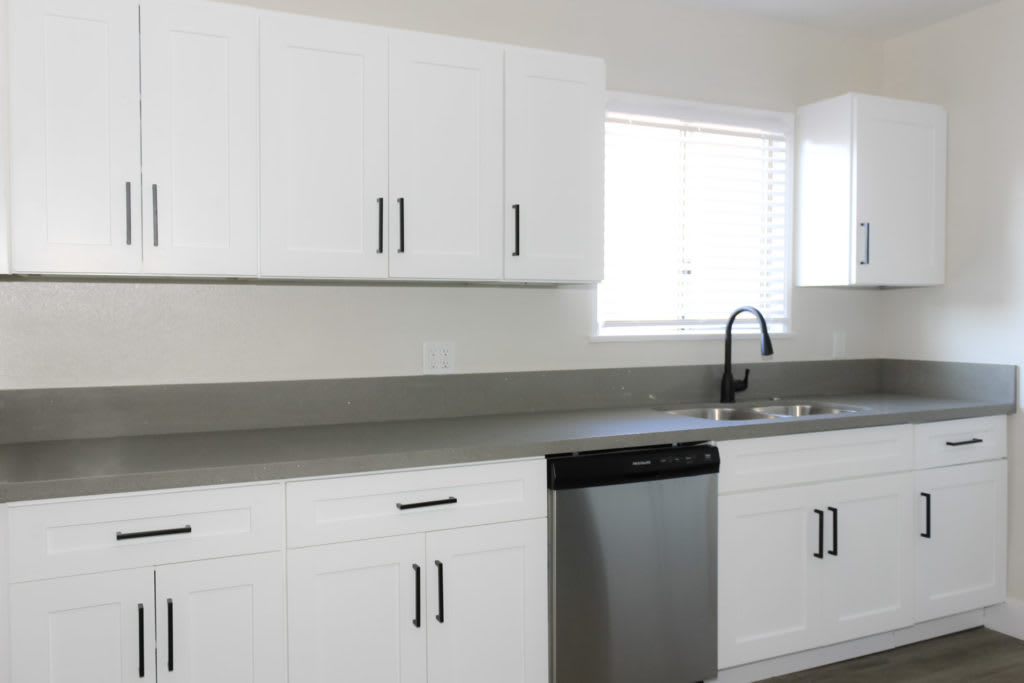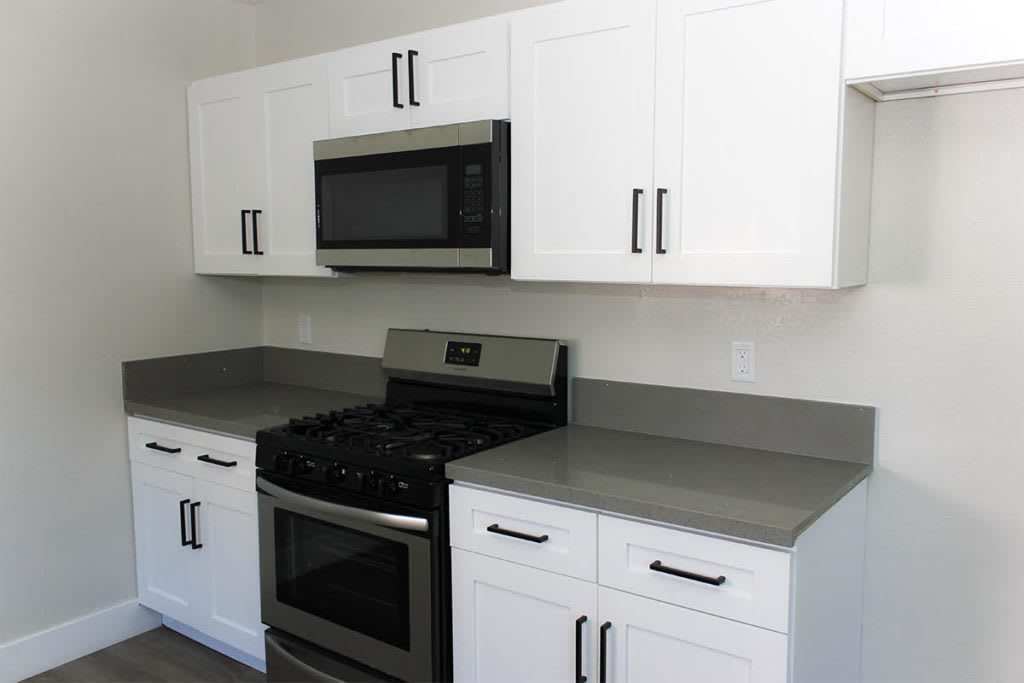 We took a look at the design and layout in this kitchen and knew to maximize profits adding a dishwasher was so important! We also added an entire wall of cabinets on one side of the kitchen that had no cabinets. We had a lot to do in the kitchen and needed new cabinets, new countertops, new hardware, and new kitchen appliances. Updating this kitchen was one of the most important property upgrades to increase rent and equity!
Ways to Save!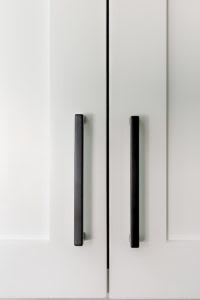 Design Tip
IF YOUR KITCHEN CABINETS ARE IN GOOD SHAPE JUST PAINT THEM WHITE AND OPT TO CHANGE OUT THE HARDWARE TO A HIGH QUALITY HARDWARE LIKE THOSE BY EMTEK. HAVING HIGH QUALITY KITCHEN HARDWARE IS KEY TO LONGEVITY AS CHEAP KITCHEN HARDWARE IS PRONE TO RUSTING. NOT HAVING HARDWARE CAN ALSO DAMAGE YOUR CABINETS BY WEAR.
Purchase new stainless steel appliances in a package to get a bundle discount and rack in the savings.
Opt for selecting a neutral color pre-fabricated quartz. Pre-fabricated quartz can be ¼ of the cost of slab quartz. Choosing a neutral color is best to conceal potential stains and damage from Tenants.
Potential cost – $1,000 – $15,000
5. BATHROOM UPGRADES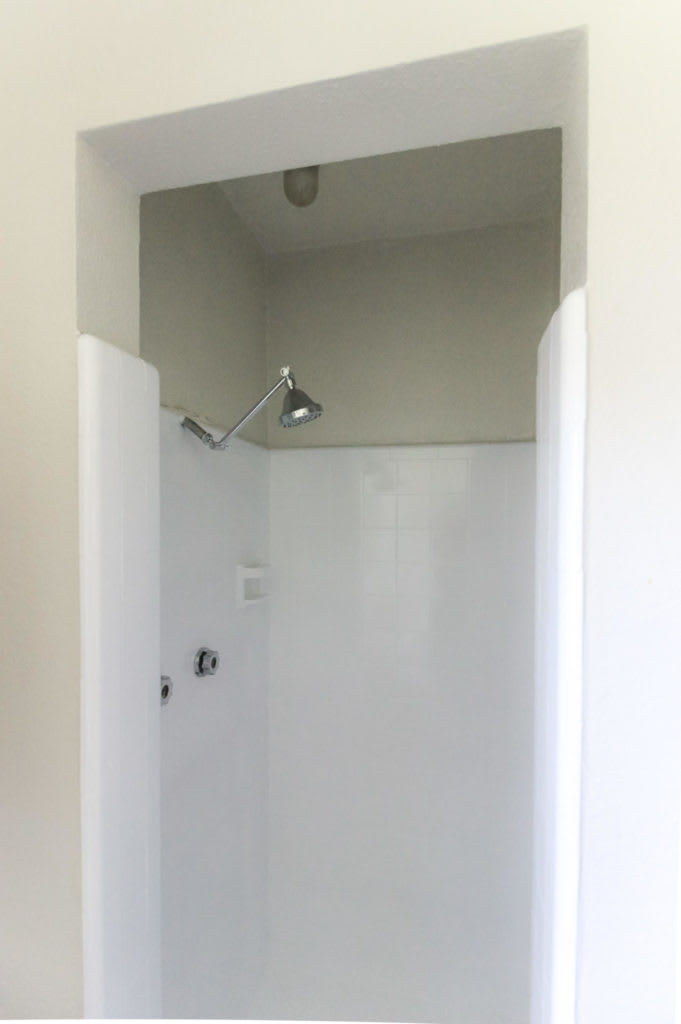 Reglaze bathroom showers & tubs, colored tile, and old tubs can show age and be a major turn off for Tenants. An easy and affordable fix is to reglaze your showers and tubs. They will sparkle and look brand new!
Potential cost: $300 – $400 per bathroom

Design Tip
If you have a higher-end rental property with a worn-out bathroom, opt to replace the tile. Choose a classic color and look, like white subway tiles. You'll be sure to win over more Tenants and beat out the competition. Sharing some great neutral tile options from
Bedrosian's Tile
.
New bathroom fixtures and faucets, new hardware, fixtures, and faucets can make a bathroom look brand new!

6. NEW CEILING FANS
An easy and affordable way to give your investment property a new and fresh look is by changing the ceiling fans.
Lowes
had some amazing ceiling fans that we bought on sale for only $39!
Check out the before and after pictures of our investment property project.
Not only did I increase my rental income by over 50%, but I also increased the equity in my home by over $50,000. With Bethany's eye for design on the right property upgrades to make we we're able to focus on the right upgrades that would maximize profits. Hiring the right Real Estate Professional and Interior Designer makes all the difference in maximizing your profits as together they truly understand the market.
We hope you enjoyed the top investment property upgrades to increase rent and equity! See some other fun ways to update your property
here
.
Natalie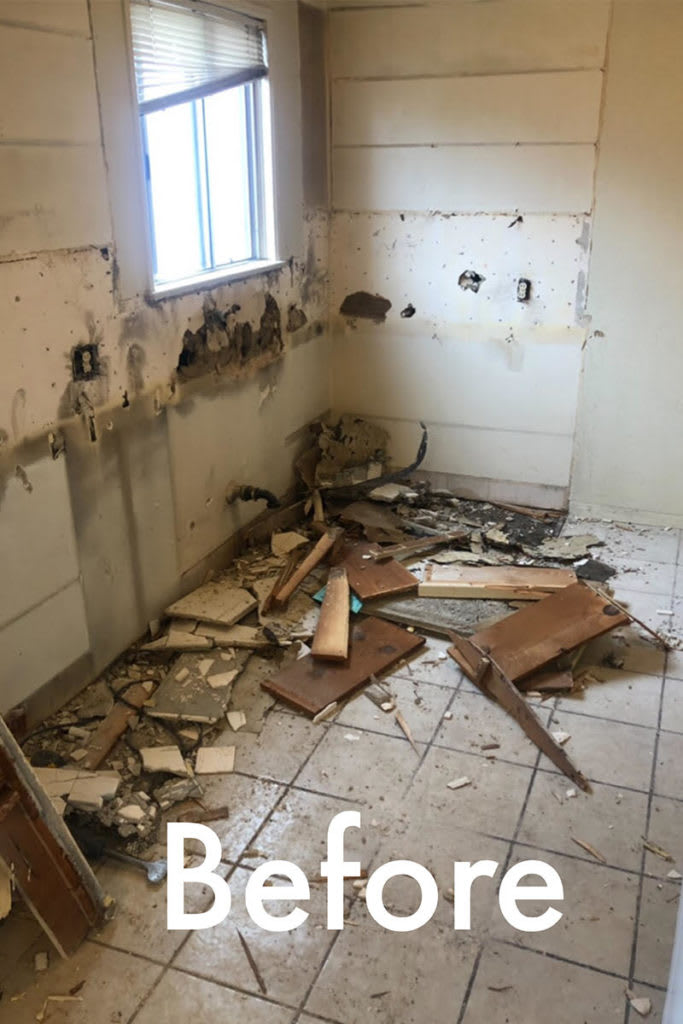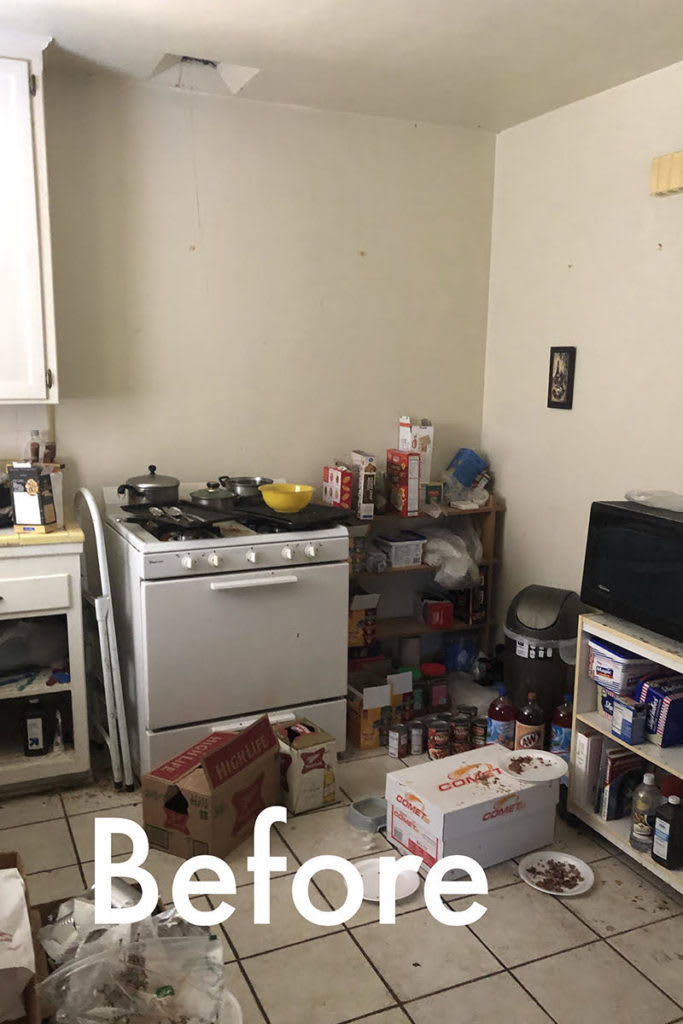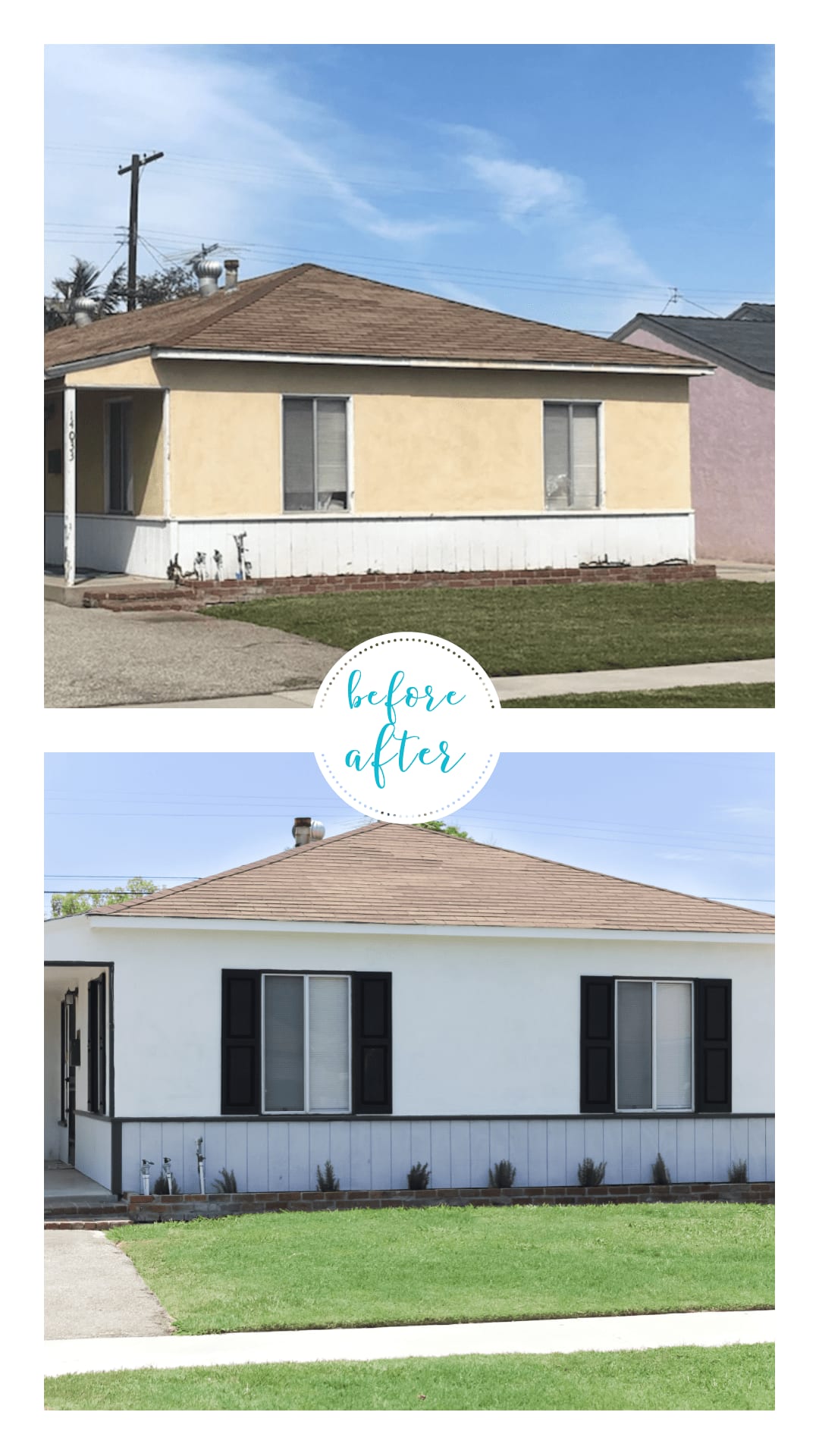 If you are thinking of buying a home that needs renovations, I'd love to help with the process!