Irvine is home to some of the best restaurants in
Orange County
. If you are looking for a variety of cuisines, take a look at the list of the top 5 restaurants in Irvine I have created!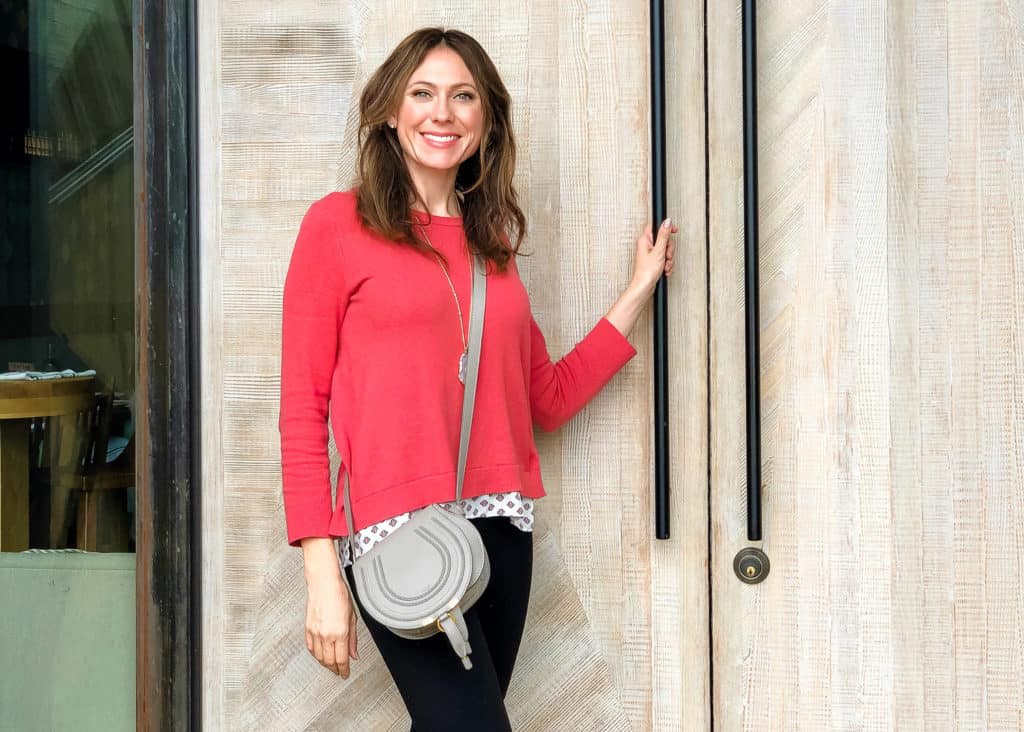 One of the best and most well known Mexican restaurants is Javier's in
Irvine Spectrum
. To start off a great dinner, I usually order the Pina margarita If I'm craving a sweet cocktail. It has fresh pineapple juice and top of the line tequila which is a must!
The entrée I usually split with my husband is their
La Tablita
. I love ordering this plate since it features several items on their menu like their beans, corn, guacamole, and salsa with your choice of mouth-watering skirt steak or grilled chicken. My favorite part about this dish is that it is prepared with tortillas so you can make your own tacos! Even though I try to eat as much of La Tablita as I can, it is pretty large.
Somehow I always manage to save room for dessert though. My all-time favorite dessert is the
Pastel Tres Leches
! I first tried this cake when I celebrated my birthday here with my friends. I immediately fell in love with the almonds and caramel sauce drizzled on the top in my first bite!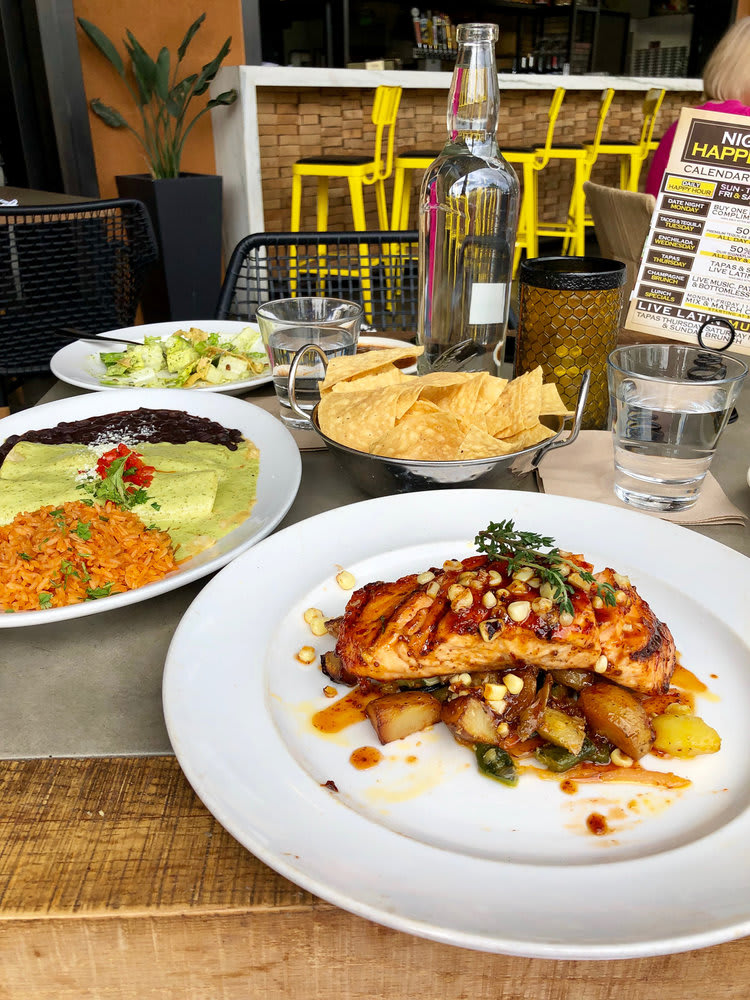 For Taco Tuesday I love going to Cha Cha's Latin Kitchen with my friends! This year for Restaurant Week, Cha Cha's created an awesome menu that I was so excited to try! Their twist on a traditional Caesar salad was absolutely delicious. I loved the crunchy tortilla strips and cilantro dressing on the top.
For my main dish, I ordered the crab and shrimp enchiladas, which were so buttery and melted in my mouth.
I also tried a few bites of my friend's glazed salmon featured on their Restaurant Week Menu. I really enjoyed the sweet and spicy honey chipotle glaze, since it paired so well with the perfectly cooked salmon and potatoes. Yum!
North Italia is another restaurant I visit often because of their Prosciutto Bruschetta with grilled asparagus, crescent cheese, and truffle. Each time I dine here, I can taste how fresh the in-house pasta is. Another dish that I order frequently is the Roasted Mushroom Tortellini. Since I love sweet potatoes this is my absolute favorite entrée there!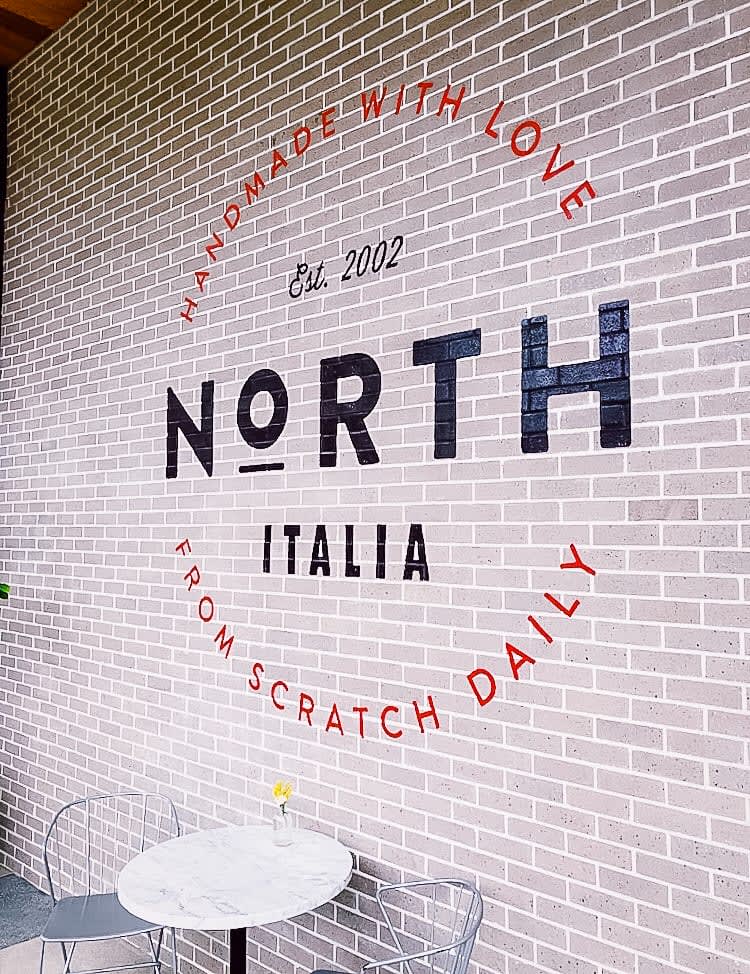 My kids also love coming here too since they are a great family-friendly restaurant. Both of my boys love spaghetti, but what they really always want are the sugared donuts! They are obsessed with dipping them in the thick chocolate sauce, and they always leave here a sticky mess (although they don't mind)!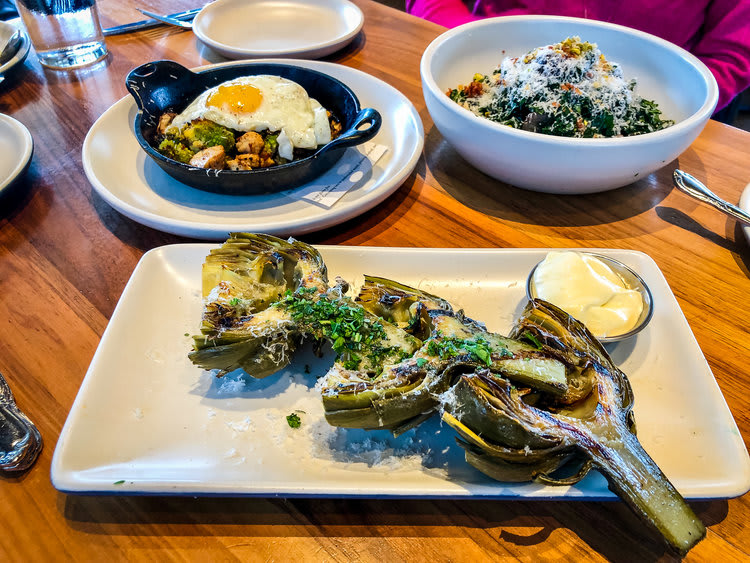 Another restaurant I've been visiting for years and go to often with clients is Houston's. Every time I visit I am always impressed by their impeccable service and how professional yet friendly the servers are. The appetizer that I think is quite unique to Houston's, is the grilled artichokes that are usually available during summer. They are grown in Castroville California and are from rootstock passed down by Italian immigrants.
Since I'm such a huge fan of seafood, the pan-seared Salmon is a favorite of mine! The broccoli and mashed potatoes make the dish well balanced and pair well with the lentil vinaigrette on the Salmon. The perfect spot for lunch or dinner any day of the week!
A client recently told me about another restaurant by Irvine Spectrum, Fukada. I cannot say enough good things about their food and neither can my family and that's why I included it in the top 5 restaurants in Irvine. We usually order a lot of dishes so we can try a variety of their food.
The Salmon Belly along with Shrimp Tempura are my sons' favorite items on their menu. I feel like I'm so lucky that they're up for trying new food! A dish that I'm always excited to order is the Udon noodles. It comes in a huge bowl with vegetables on the top, so I normally take what I can't finish home with me since it tastes almost better the next day!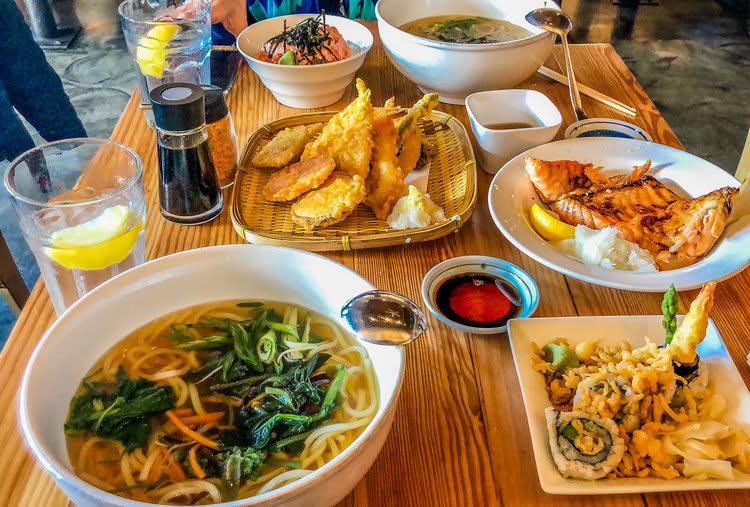 Hopefully, you get to try a few of the top 5 restaurants in Irvine soon! I'd love to know which one is your favorite!
If you are thinking of moving to Irvine, I would love to take you to one of my favorite restaurants to talk about how I can help you!