Can you all believe we are well on our way into 2020?! Bethany with
The Posh Home
and I will be sharing a monthly blog series on tips and tricks to organize your home more efficiently and effectively.
Organization saves you time, money, and makes your spaces look more put together. We are both sharing our perspectives, from a real estate perspective I know the importance of an organized space. Most people when looking to buy a home look in cabinets! The more organized you are the more appealing your home will be to a buyer. From a design perspective, Bethany knows organization is key from a functional perspective as well as an aesthetic perspective. It is so important. We are so excited to share this month's organization challenge on modern pantry organization hacks!
MODERN PANTRY ORGANIZATION HACKS
The Before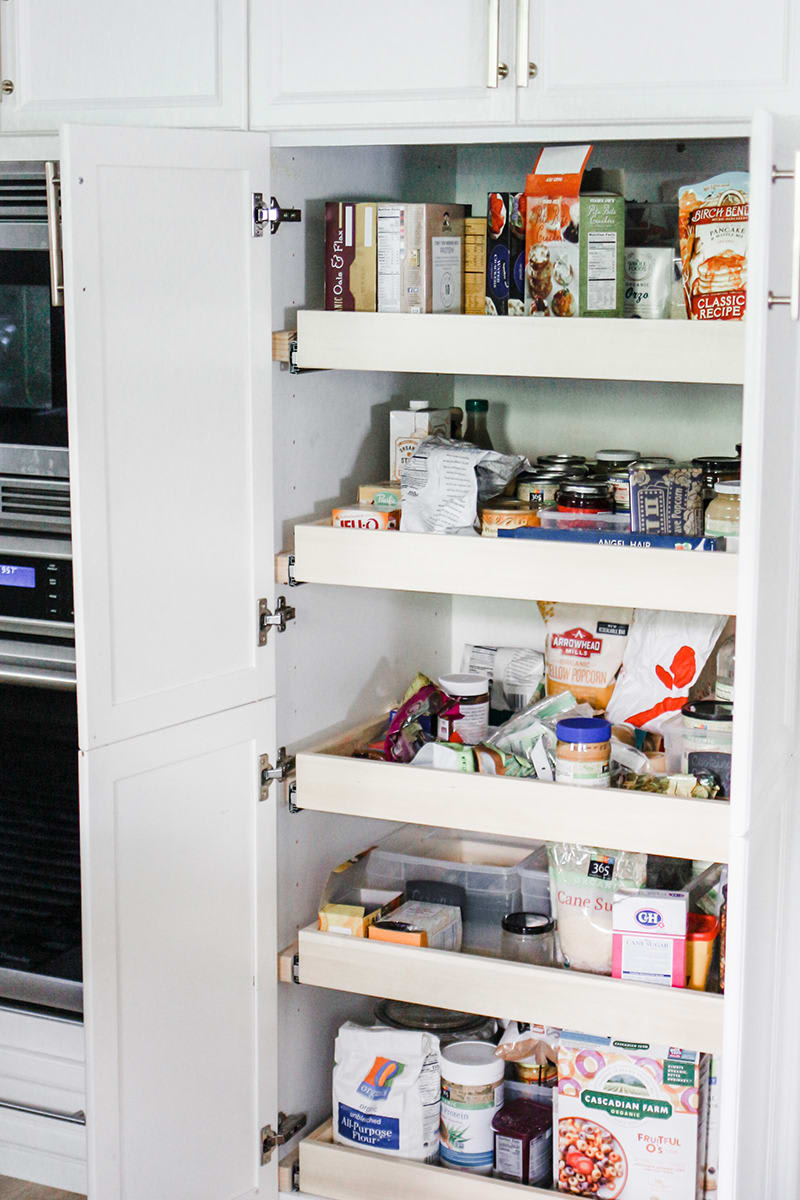 The key step in getting organized is assessing your needs and evaluating how to make your space more functional based on your specific needs.
Here Are the Steps to Get You Well on Your Way to an Organized Pantry
Measure first then take everything out.


First, measure your spaces to ensure you order the correct size bins and containers. We took everything out of the pantry, to first see what items were multiples, what items were expired or no longer needed.



Clean out the shelves!


We made sure to clean out the shelves, and then grouped items together. This helps make the planning and placement aspect that much easier.



Group items in containers and bins.



Make sure everything has a place that makes sense and that the placement of the items is functional. We put baking items in sealed glass containers to keep items fresh longer and to save space within the panty. We loved the glass containers with the wood lids to give that clean modern look and Lucite bins so it's easier to see your items grouped together.

Label Everything



Labeling helps set you up for success and helps ensure everything is put in the correct spot now and in the future! We loved these labels we found on Amazon.

Think through your layout and placement of items that are needed more frequently



We wanted to make sure that snacks were reachable for the kids and the more day to day items were easily accessible. This not only makes grocery shopping that much easier being able to see what is needed it also helps save money by not buying multiples of items you need. A great way to store spices and canned foods is by using tiered storage. This helps you find things so much quicker and ensures you stay on track with organization!


We hope you enjoyed our modern pantry organization hacks! We would love to see what you decide to do with your pantry so be sure to share and tag us so we can follow along! Stay tuned for next month's organization challenge and project!